Istanbul Street Art Tour
Istanbul's lively local district Kadıköy has a very artisan side as well and Istanbul street art tour is perfect for anyone who loves to discover street art and local culture.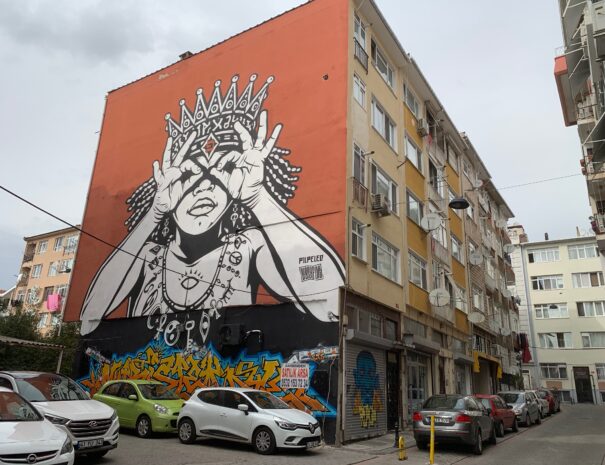 You will meet your guide in front of Kadikoy Ferry Pier. We look forward to having you!
First stop will be Osmanaga where we can find interesting street arts. Your guide will provide information about the story of each mural.
The cosy neighbourhood of Rasimpasa will be our second stop with more colorful murals. We will also be talking about the daily life and the history of the neighbourhood as well.
Later on we will pass through cosy streets and visit the central fish market to have lunch while local people shop for the fresh seafood and fishermen keep yelling around to sell more. This market is one of the liveliest areas in Istanbul and you can easily blend in the local culture.
After the lunch, we will visit Yeldeğirmeni neighbourhood. Yeldeğirmeni is home to many unique murals and also hosts a mural festival each year. It is probably the top spot in the city for murals. While walking around the bustling narrow streets you can suddenly see a huge mural.
The day will be finalized with having traditional Turkish coffee because everything nice ends with a delicious Turkish coffee. The coffee is cooked using finely ground, dark roasted coffee beans without filtering and it is definitely perfect for the coffee-addicts! 🙂
The tour will end in Kadıköy Ferry Pier again so you can either hop on a ferry to Besiktas, Karakoy or Eminonu. It is also possible to take a metro ride if you are staying around the Asian Side.
Had a lovely evening walk with the charming guide, Didem. Meeting point was easy to find. The food offered on the tour was freshly made, and smelled and tasted really… read more good. The walk was really nice, and provided a break in between all the stops, where the portions were just right that you get a good taste of what turkish cuisine is like, but not too big that you end up overstuffed at the end of the tour.

Make sure you read your fortune after your Turkish coffee. That made pretty lively and interesting conversations.

891AndrewW891


February 12, 2023

A fantastic experience and delicious culinary offerings. – The evening food tour was an incredible experience. We sampled a wide variety of foods, all delicious, and got a great taste of local culture and history too. Our guide… read more Elif was lovely; welcoming, laid back, friendly, and gave us some great recommendations for dinner spots for our remaining time in Istanbul. As two foodies, we enjoyed every minute of the tour and the dinner recommendations made were also excellent. Highly recommend! A great way to get yourself oriented and acquainted with the city and the beginning of your trip.

shaunan2018


February 7, 2023

Unforgettably wonderful food (and city sights) tour!

The highlight was meeting not just quality people in the tour who really wanted to be there and emmerse themselves in… read more Turkish culture, but our local born and bred guide Ezgi. She has the most beautiful personality well suited to hosting visitors to her country and took the time to explain (in perfectly fluent English) customs and rituals as well as flowing with group dynamics and banter, reading the room and always being aware and accomodating of people's needs and preferences. She took the experiance up several notches by this professionalism yet also gave a real genuineness in sharing parts of her own life as a local. After the tour she offered assistance with recommendations and advice for our remaining stay. If I lived here permanently, I would definitly make room for as quality a human being as her in my life.

A C


December 4, 2022